I am the co-creator of the Booyah Belt, a belt with a patent pending form of attaching that allows users to remove the buckle (but not the belt) when going through airport security. Unfortunately, without a demonstration of this new type of functionality, our would be customers were confused. We created this video to help tell our story. I co-directed this short promotional video and was responsible for storyboarding, shooting locations, and casting.
I designed and fabricated this minimalist bookshelf as a way of exploring supporting structures. Materials, aluminum, delrin, and threaded wire. (2005)
I created this step-by-step guide to making shoes from a one piece pattern as supporting material for a talk I gave at Maker Faire in 2011.
A set of security bars intended to send a different message.
Dimensions, 27″ wide.
Material: 1/8″ steel
Part cutting by Advanced Water and Laserjet. Bending by Jerome at J&J Fabrication. Both in Santa Clara, CA.
I was commission to do this installation as part of the d.school's move to it's new building. Using slow exposure photographs and stationary light sources, I created a series of abstract typography. The photos were then sewn together to make a quilt.
Final dimensions 36″ x 60″
Materials: Photographs, felt, thread
These shoes were developed as a way to bypass traditional methods of creating shoes. (which is a time and materials intensive process). By reimagining the ways shoes are constructed, opens up all sorts of possibilities for small scale DIY manufacturing and creative exploration.
This series explores the letter-form as an expressive, exuberant thing in and of itself. By using a simple point-and-shoot camera as a "pen" I created letter-forms from the light of stationary objects such as a television, a streetlamp, and the Golden Gate Bridge.
We asked students a series of questions about their experiences with the Rick and Susan Sontag Center for Collaborative Creativity (the Hive). This video is a compilation of their responses.
Jin Yu (Stanford, Class of '10) created this piece in response to the assignment I'd created.
Select a simple, common object such as a button or mug. Draw the object once each day for 21 consecutive days paying special attention to variety. Assemble the drawings according to themes which make sense to you. The drawings can be at any scale. Do not spend more than 5 minutes per drawing.
The purpose of the assignment was to get students to learn to see objects from new perspectives as well as experiment with alternative ways of representing forms that they may take for granted.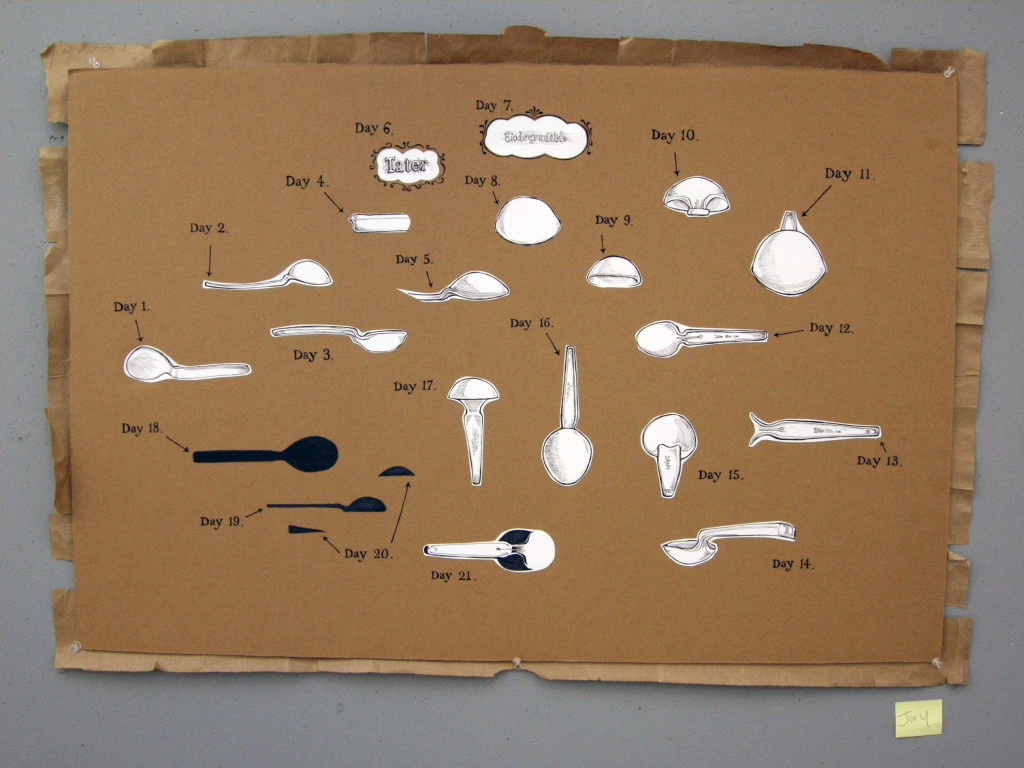 I created this pop-up course as a way of introducing how constraints can aid in the process of ideation and to explore novel ways of communicating process. We used the large format "scrolls" to encourage students to move beyond the page and provide a more physical way to interact with the final output. We filmed each work session with GoPro cameras and gave the final output to students to help them tell the story of what it means to be a designer.
Co-taught with Scott Witthoft and Seamus Harte
2015
I was a coach for Anna Lena during the Stanford 2025 project. She and the rest of her team (who I also coached) were given the challenge of Reimagining the future of accreditation. I helped her to think about creative ways to protoype her compelling concept and ways to keep her aligned with the user needs that were the inspiration for her design.
Instead of a resume where each computer science degree (for example) looks alike no matter what courses or projects a student works on, imagine a visualization of your skills as unique as your fingerprint. Something that dynamically evolves with you and let's you more easily understand a person both at a glance and by going in-depth to learn more about personal stories. I developed this idea of a visual skill representation through an individual design project that launched within the context of Stanford 2025 and then built on it throughout the following year. Below you can see the current version, additionally, an iPad prototype implementing this concept from the perspective of a recruiter can be tested here.