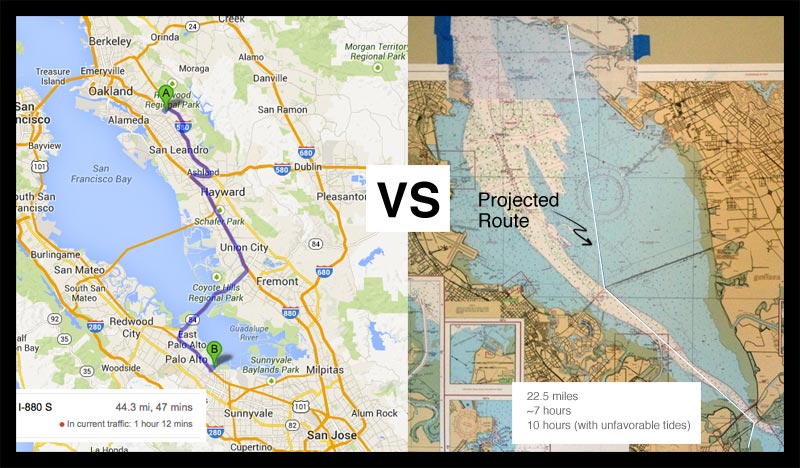 I live in Oakland. I work in Mountain View at Intuit. For those of you who have done this kind of commute, you know how exhausting, soul-crushing and just maddening it can be.  And given that Intuit's offices are right on the bay, it's probably not surprising that I've had fantasies about commuting by water. After all, it's a bit more direct if I were to go from Alameda to the wetlands, just off Shoreline. I thought about taking a Zodiac or a hovercraft. Neither of which I own. I heard about some folks at Google who bike from SF to Mountain View. I think there's even something called the Golden Ride that where you go to Half Moon Bay, then over the hill to Google. But I'm not into biking.
But there has to be a better way to get to work. So this August I'm going to Stand Up Paddle board from Alameda to the Intuit offices in Mountain View. I'm trading in Waze and Google Maps for a nautical chart, tides tables and a lot of sunscreen. It's my Aqua Commute 2013.
Here's the plan.
Leave from Alameda around 6am – 8am (depending on my speed – which I'll test.)
Paddle through the relatively shallow eastern side of the bay where the currents will be minimal to the point where the San Mateo Bridge Crosses the Easter side of the channel.
Take advantage of the currents all the way down past the Dumbarton Bridge
Get out at the East Palo Alto put in.
Right now, I'm targeting August 22nd since there's going to be a strong flood tide that day with the max current sometime around 2pm. That should give me the most time to take advantage of it.
I don't expect to get much work done after the 22+ mile paddle, but I think it's going to be so much fun.
Total Distance: Approximately 22.5 miles
Expected time: 6-8 hours